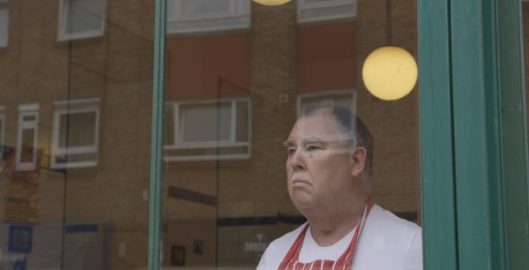 Doc Heads presents a special event – Zed Nelson's "The Street" at the London Union Chapel on 19th February
Focusing on one East London street and its inhabitants over a four-year period – a film about love and loss, a community unravelled by gentrification, and the nation's slide into Brexit.
As the glinting steel and mirror-glass skyscrapers of London's financial hub edge ever closer, the area surrounding Hoxton Street has been transformed by luxury developments and sky-high property prices. This traditional East London street, less than a mile from the City of London, has become the last bastion of the areas disadvantaged – a concentration of the aged, poor and dispossessed.
Set against rapid gentrification, the fallout from Grenfell and the eruption of Brexit, Zed Nelson's feature-length debut is a comic, tragic and deeply moving portrait of not just a street, but a nation on the cusp of enormous change.
Afterwards director Zed Nelson will be in conversation with Docheads' Katharine Round.
★★★★ "Quietly enraging. An unmissable portrait"
The Guardian
★★★★ "Accomplished. Surprising tenderness and humour"
The Times
★★★★ "A purposeful, poignant pictures of loss. Watchful, patient documentary"
Total Film
★★★★ "An intimate and original exploration of an oft neglected topic. Captivating." Little White Lies
Doors open at 7pm on 19th February 2020.
TICKETS: https://www.unionchapel.org.uk/event/19-02-2020-the-street/