KATHARINE ROUND
Katharine is a filmmaker with over twenty years experience in creative documentary for broadcast & cinema. Her work is described as "tender and evocative" and aims to challenge the idea of documentary in all its forms.
Films include THE DIVIDE, released across UK cinemas and Netflix, hailed as "fierce and unsettling" (Peter Bradshaw, The Guardian), "jaw-dropping" (The Express), and "timely, emotionally-shattering, formidable" (Picturehouse Cinemas).  Other projects include LONDON SYMPHONY, "rapturous, compelling and inventive" city symphony nominated for the Michael Powell Award at Edinburgh International Film Festival and performed across London with a live orchestra supported by Arts Council England; and the Grierson-nominated TRANSPLANT for BBC1.
Katharine has also worked as a Development Executive at leading independent production companies, and regularly gives masterclasses on documentary production & funding, including Sheffield Doc/Fest Devise 2 Deliver, The Smalls Festival, Four Corners Film, and DOK Leipzig. She is the mentor for Four Corners Digital Film Micro Lab.
Katharine@docheads.org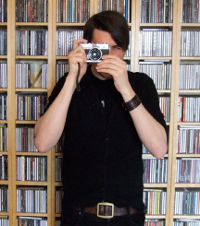 TRISTAN ANDERSON
Tristan Anderson is a BAFTA winning documentary filmmaker whose films and TV shows have been broadcast in over 15 countries internationally including in the UK on the BBC, Channel 4, The Community Channel and on the Emmy award winning Current TV.
Tristan regularly attends international film festivals to speak on panels and lead workshops and masterclasses. He also runs and owns the production company Film-Mode which has produced documentaries for Channel 4, London Live & The Guardian. – www.film-mode.com
Along with his documentary work he is a musician who makes electronic / folk music under his full name Tristan  C. Anderson.
He recently released the album #Soundtracks where he worked with 8 documentary filmmakers to produce one film for each track on the album.  https://www.soundtracks-project.com/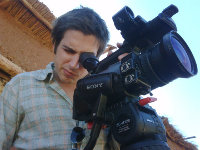 FRED GRACE
Fred Grace, alongside Gemma Atkinson is the founder and director of Fat Rat Films, the award-winning documentary production company. Their films have been broadcast on BBC Newsnight, Channel 4, Al-Jazeera, screened worldwide at festivals and garnered national press coverage.
The nature of their films has seen them attacked with pepper spray and threatened with a two-year jail sentence by the British government.
fred@docheads.org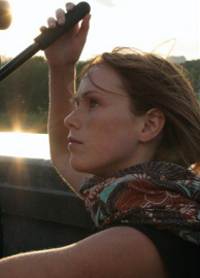 GEMMA ATKINSON
Gemma is a  founding member of Fat Rat Films and award-winning documentary producer and director.Her films have been screened worldwide at festivals (Sheffield Doc/Fest, Silverdocs, LSFF, EEFF, Branchage, Berlin Film Society) and have been broadcast on major UK television (BBC, C4, Al Jazeera).
Through her work with NGOs and charities such as The Elders and Publish What You Pay she has produced and directed films in countries such as Niger, Brazil, Haiti and Occupied Palestine.
Interested in social injustice and fairer world for all, her film NO PLACE LIKE HOME on detention without trial in the UK caused such an uproar in government and media that she was threatened with a two-year jail sentence after it was broadcast on BBC Newsnight.
At heart though its about the characters; her intimate portrait of Darren, a conflicted mechanic in OIL & WATER was premiered at Silverdocs and went onto win the best documentary award at The Smalls Festival in 2012.
gemma@docheads.org