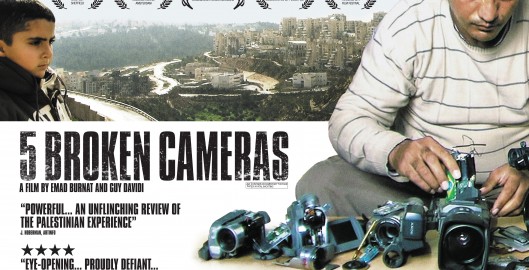 New dates added for our second season of Docheads – we'll be screening on 14th June at Ritzy Brixton, 21st at Hackney Picturehouse, 29th at Crouch End Picturehouse with a final date on 18th July at the Union Chapel in Islington.
We're also thrilled to be hosting a special Q&A screening of Oscar-nominated Five Broken Cameras with co-director Emad Burnat in attendance.
An extraordinary work of both cinematic and political activism, the film is a deeply personal, first-hand account of non-violent resistance in Bil'in, a West Bank village threatened by encroaching Israeli settlements.
Shot almost entirely by Palestinian farmer Emad Burnat, who bought his first camera in 2005 to record the birth of his youngest son Gibreel, the footage spans five years in his village, Bil'in, as a separation barrier is built and the villagers start to resist the decision. Burnat watches and films the struggle, led by two of his best friends, alongside filming how Gibreel grows. Very soon it affects his family and his own life. Daily arrests and night raids scare his family; his friends, brothers and himself are either shot or arrested. One camera after another is shot at or smashed. Each of the 5 cameras tells part of his story.
This special screening is followed by a Q&A with Emad Burnat and Dr Shohini Chaudhuri, lecturer at Essex University and author of a number of books on world cinema and the ethics of film spectatorship
Presented by DocHeads in partnership with Union Chapel Church and the department of philosophy and art history at the university of Essex.